Michael Pollard almost had a foot-perfect round on Mensa, but just narrowly missed a flag at one of the turning wedges at 20AB. He made most of the course and especially the last water—which I fought incredibly hard for—look like a simple gymnastic... except it was hanging rails to a rolltop drop into water to a right-handed corner 90 degrees to a wedge 90 degrees to another right handed corner all on a related serpentine/circle. Makes me tired just thinking about it!
The Americans have four in the top 12 going into show jumping, due to fast clear rounds from Marilyn Little and Phillip Dutton, and double clears from Clark Montgomery and myself. Phillip is in the closest striking distance to William Fox-Pitt, who is somewhat unsurprisingly, but still remarkably, is in first, second and third on all three of his mounts!
Details

Created: Wednesday, 23 October 2013 19:27
Written by Leslie Mintz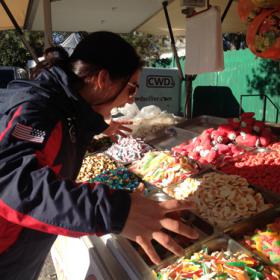 Playtime is over. We've had so much fun over the last week and a half in Chantilly and then in Pau, but now it's time to get down to business.
We even had a chance to go to Paris and see the Eiffel Tower, and unfortunately I also picked up an amazing bout of food poisoning or an awesome stomach virus. Luckily I survived, and many apologies to Hannah Sue Burnett, who had to suffer through the evening as my poor roomie that terrible night.
At the top of the Eiffel Tower!
All the horses jogged well at the first horse inspection today, and it was quite interesting to see the difference in turnout between countries. France is known for being fashion forward, and apparently their horses are too! If the U.S. horses took note, you may be seeing some horses wearing body glitter on the American jog strips this spring.
Glitter body paint....I'm not kidding.
Details

Created: Saturday, 19 October 2013 19:29
Written by Leslie Mintz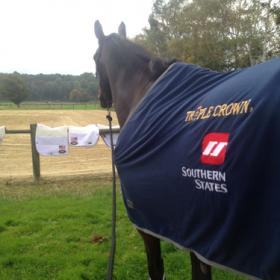 Well, the event is getting closer. It's been nice to have this bit of down time in our own little world in France, working on some last-minute preparations before we head to Pau for the four-star.
We've been riding through and filming our dressage tests and then watching our rides, and setting up some jump exercises similar to what we think we may run into at Pau...minus the enormous mounds, tight galloping lanes, and atmosphere.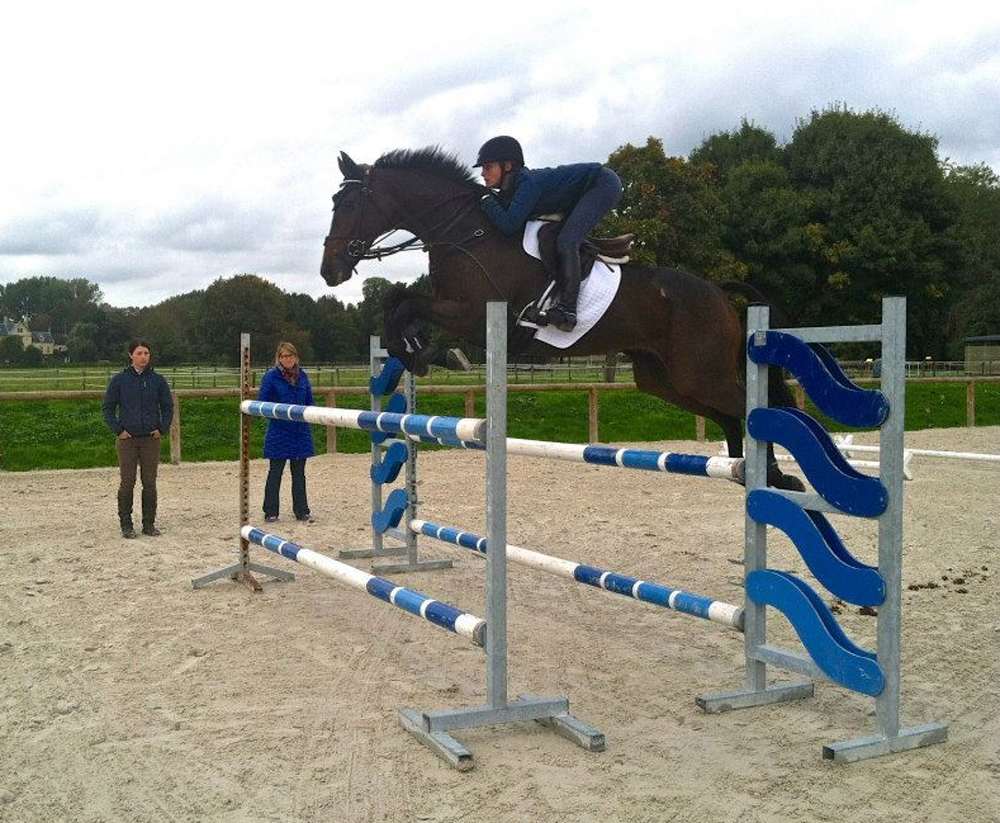 A quick jump school of Donner and me.
Photo by Alison Wilaby
I'm simultaneously apprehensive and excited to see how Donner handles Pau, but there's only one way to find out! I'm really thankful for this opportunity to expose him to atmosphere he's never encountered before, against a competitive field we've never seen before, on a course designer's track I've never walked around or ridden before. There's no better chance to test that out than on Pierre Michelet's CCI**** track, especially since he's designing at the [Alltech FEI World Equestrian Games] next year.
Details

Created: Tuesday, 15 October 2013 19:30
Written by Leslie Mintz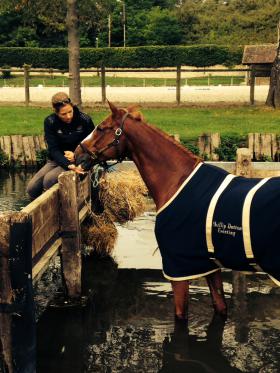 Greetings from France! The Pau CCI****-bound U.S. and Canadian horses are all settled in at the gorgeous Fursan Equestrian facility in Chantilly, France, for the next few days until we ship 10-plus hours to Pau on Monday.
Donner is a bit tight and wild at the moment, but he's relaxing more and more with every ride. While a flight to Europe takes a lot out of some horses, unsurprisingly it seems to have had the opposite effect on mine.
A sensitive, spooky, fit, off-the-track Thoroughbred, a plane ride, and working out of a new facility right before heading to a four-star can be a fine art to master. I definitely haven't mastered him, but I like to think I'm starting to figure him out more with every season.
Details

Created: Thursday, 25 July 2013 15:11
Written by Leslie Mintz
Lynn and Donner have been named to the USEF World Class List and Received the Jacqueline B. Mars Grant to compete at the Pau CCI**** in October!
USEF Names 2013 Eventing High Performance Summer/Fall Training Lists
Lexington, KY – The USEF Eventing High Performance Committee has approved the following High Performance Summer/Fall Training Lists for the 2013 season.

World Class
Combinations that currently possess the ability to be competitive anywhere in the world. The combinations listed on the World Class List will receive Land Rover Training Grants.
Lynn Symansky (Middleburg, VA) and her own Donner
Donner is a 2003 Thoroughbred gelding
Read the full press release here: http://www.usefnetwork.com/news/10156/2013/7/4/usef_names_2013_eventing_high_perfo.aspx
USEF Announces Eventing Competition Grants for European Competition
Lexington, KY- The United States Equestrian Federation (USEF) and United States Equestrian Team Foundation (USET) are pleased to announce eventing competition grants for European competition in the fall of 2013. All grants were awarded based on an application process.

Jacqueline B. Mars Competition and Training Grants

The USET Foundation is pleased to announce that the Jacqueline B. Mars Competition and Training Grants have been awarded to Meghan O'Donoghue and Lynn Symansky; eventing riders who have been identified and recommended by the USEF Eventing Selectors, with impressive records and potential to represent the United States in future international competition. O'Donoghue (Carbondale, IL) will compete her own 2002 Thoroughbred gelding Pirate at the Fidelity Blenheim Palace International Horse Trials CCI3*. Symansky (Middleburg, VA) will compete her own 2003 Thoroughbred gelding Donner at the Les Estoiles De Pau CCI4*.

The United States Equestrian Team Foundation (www.uset.org) is the non-profit organization that supports the competition, training, coaching, travel and educational needs of America's elite and developing international, high-performance horses and athletes in partnership with the United States Equestrian Federation.
Read the full press release here: http://www.usefnetwork.com/news/10215/2013/7/19/usef_announces_eventing_competition.aspx