I think we all have one brewing after the culmination of Pau. One becomes so intensely focused on achieving a goal, and then in an instant it's over.
Donner put in a beautiful show jumping round yesterday to finish off our second four-star this year in 13th place out of 50 combinations that finished the event. While I was hoping to jump a double-clear round here just like on the cross-country, the huge, technical show jump track took its toll on the majority of the field. Unfortunately all of the U.S. contingent had at least two rails, as well as many of the world's best horses and riders. The USA finished four riders in the top 20 at an overseas four-star, which is something we should all be proud of and I feel like we're heading in the right direction.
Details

Created: Saturday, 26 October 2013 19:26
Written by Leslie Mintz
Well, I'd say it was an overall good day for camp America at the Pau CCI****. There were some brilliant rounds, but sadly a few heartbreakers. Hannah Sue Burnett's Harbour Pilot slipped coming around a turn at the first water, and they both ended their day early there. Kristi Nunnik and the lovely R-Star jumped the wrong option at this same water and also had a shorter trip than they would have liked. Good news is both horses and riders are absolutely fine and are just annoyed and hungrier for more!
Michael Pollard almost had a foot-perfect round on Mensa, but just narrowly missed a flag at one of the turning wedges at 20AB. He made most of the course and especially the last water—which I fought incredibly hard for—look like a simple gymnastic... except it was hanging rails to a rolltop drop into water to a right-handed corner 90 degrees to a wedge 90 degrees to another right handed corner all on a related serpentine/circle. Makes me tired just thinking about it!
The Americans have four in the top 12 going into show jumping, due to fast clear rounds from Marilyn Little and Phillip Dutton, and double clears from Clark Montgomery and myself. Phillip is in the closest striking distance to William Fox-Pitt, who is somewhat unsurprisingly, but still remarkably, is in first, second and third on all three of his mounts!
Details

Created: Wednesday, 23 October 2013 19:27
Written by Leslie Mintz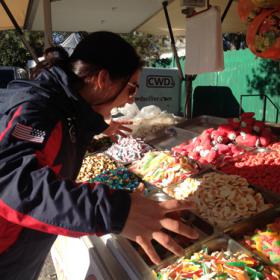 Playtime is over. We've had so much fun over the last week and a half in Chantilly and then in Pau, but now it's time to get down to business.
We even had a chance to go to Paris and see the Eiffel Tower, and unfortunately I also picked up an amazing bout of food poisoning or an awesome stomach virus. Luckily I survived, and many apologies to Hannah Sue Burnett, who had to suffer through the evening as my poor roomie that terrible night.
At the top of the Eiffel Tower!
All the horses jogged well at the first horse inspection today, and it was quite interesting to see the difference in turnout between countries. France is known for being fashion forward, and apparently their horses are too! If the U.S. horses took note, you may be seeing some horses wearing body glitter on the American jog strips this spring.
Glitter body paint....I'm not kidding.